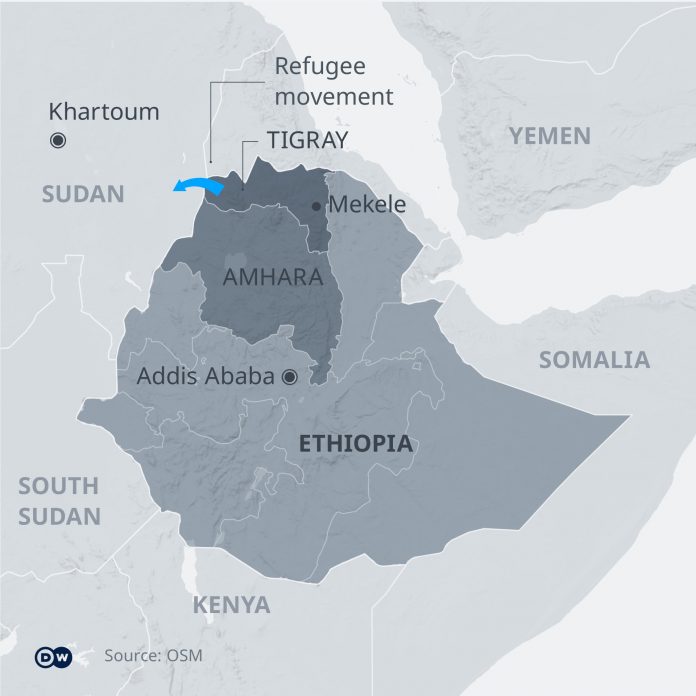 In early November 2020, the first news about military tensions in Ethiopia went around the world as prime minister Abiy Ahmed, Nobel Peace Prize laureate, sent troops to the northern region of Tigray. Reports about a terrible humanitarian situation as well as violations of human rights quickly followed since many inhabitants fled the region. There are few angles to look at the problem of the current violent conflict in Ethiopia, which will be analysed starting with the commencement of the issues.
Beginning of the Conflict
When Ahmed became prime minister of the federal state of Ethiopia in 2018, he started a series of reforms. Ethiopian government is usually a coalition consisting of more parties representing 10 autonomous federal states. Since 1991 the coalition was dominated by Tigray People Liberation Front (TPLF), but after Ahmed, then member of Oromo Democratic Party, dissolved the existing coalition in 2019 and created new one by merging existing parties into Prosperity Party, TPLF chose not to join it (Middleton, 2020). Ever since then, there is a tension between Tigray and the rest of the country, represented by the federal government. In 2020, the tensions escalated when Ahmed announced an indefinite postponement of the election, scheduled for August, due to the COVID-19 pandemic. Tigray officials, however, decided to go ahead and held the regional elections anyway. Federal government considers the elections as illegal. Another reason for escalation was the fact, that Tigray is home to many military bases and armouries and in October 2020, TPLF took control over part of Northern Command divisions (Manek, Kheir Omer, 2020).
The official pretext for sending federal Ethiopian National Defense Forces (ENDF) to the Tigray region on November 4th was an attack on a federal military base that was attributed to the TPLF. Even though they refused any responsibility, it started a violent conflict that not only influences inhabitants of Tigray region but has the potential to spread across the Horn of Africa (Middleton, 2020).
Humanitarian Crisis and the Violation of Human Rights
Very quickly after the beginning of military operations in Tigray, reports showed thousands of civilians fleeing their homes and dozens being killed or injured. Humanitarian organizations, as well as the international community, started to worry about the situation, as it seems that government forces are attacking also civilian targets and its actions are not in line with international conventions protecting human rights during conflicts (Bope, 2020).
Refugees headed to different regions of Ethiopia, but many of them left the country completely to temporarily settle in refugee camps in Sudan. It is now believed that more than 950 thousand people are displaced and over 50 thousand of them left to Sudan (Fick, 2020). From there, they provide accounts on horrible things they witnessed. Some report brutal killings of civilians based on ethnic affiliation with Tigray. It's not only ENDF but also paramilitary groups from different ethnic regions of Ethiopia fighting on government's side, like Fano, militia from Amhara region. There are deaths on both sides, signalling brutal behaviour of Tigray forces as well. Attacking civilians is prohibited by international law, and in this case, strong indications about bombing civilian targets were made, which is also concerning for international community (Bope, 2020). The USA supports African Union's mediation efforts, France alongside with the rest of the European Union are appealing to protect the civilians and even initially postponed their planned supporting payment of €90 million until the government allows humanitarian aid to reach those still staying in the region (Fick, 2020).
Information about the situation in the region are mostly reported by the refugees because the government suspended internet and mobile phone networks. In the first month after the beginning of the war, humanitarian organizations were not able to reach the civilians who stayed in Tigray with food and other basic goods in form of humanitarian aid. Even though, according to international law Ethiopian government is legally bound to allow humanitarian organizations access to the region in order to provide immediate assistance, the government lead by Nobel Peace Prize laureate was hesitant to do so (Bope, 2020). It is obvious that the situation in Ethiopia is critical from the humanitarian point of view, and those suffering the most are not members of two fighting sides but civilians stuck in the Tigray region or refugees in terrible condition in refugee camps. Only further investigation will show the extent to which the human rights of civilians have been violated and whether the actions taken by the armies of the warring parties have been a violation of international conventions. However, it is particularly paradoxical that one of the actors in this war is the holder of the Nobel Peace Prize, which is awarded for the elimination of military activities or the peaceful resolution of conflicts.
Internal Conflict or Beginning of Inter-State War
When predicting the outcome of this civil war, many factors both internal and external have to be taken into account. It is obvious, that the prime minister of Ethiopia Abiy Ahmed wanted to strengthen the power of the federal government by attacking Tigray lead by opposition party TPLF. Even though TPLF never officially expressed will to break away from Ethiopia, it has strongly supported the constitutional right for self-determination of regional states. Second largest regional state of Amhara, on the other hand, prefers strong united governmental system and would like to abolish the federal system (Brooke-Holland, 2020). If Ahmed and federal military are able to take complete control of the government, the possibility to abandon the federal system might grow. Although it currently looks like Ahmed is winning in Tigray, this conflict could go on a long run, with TPLF not wanting to give up easily on its freedom and position of regional power. Another factor that could possibly extend the duration of conflict is if Ethiopian neighbours chose to join and interfere within the civil war. Since the Horn of Africa is not the most stable region with a long history of mutual conflicts, this is not entirely ruled out. Moreover, Sudan, Somalia and Eritrea might have a reason and vision of gains for opting to join.
Ahmed was awarded Nobel Peace Prize for making peace in decades lasting conflict with Eritrea in 2018. Since then, the relations between the two countries improved, and the Eritrean president Isaias Afwerki supports Ahmed, especially because he sent TPLF to opposition. Eritrea holds grudge against Tigray People's Liberation Front as it was in power when Eritrea was defeated by Ethiopia and to see fail of TPLF could mean a great retaliation (Matshanda, 2020). Also, Tigray region borders Eritrea in the North, therefore it could directly endanger TPLF. Based on the diplomatic information from the beginning of December, it is believed, that Eritrea is helping Ahmed's federal army and some troops have crossed the borders to fight in Tigray. Supposedly Eritrea also helped with the bombing of the border town of Humera, as refugees reported missiles coming from Eritrea's side of the border. Both Eritrea and Ethiopia denied the claims and called these rumours propaganda created by TPLF (Stewart, Lewis, 2020).
Another possible actor that could get involved in the war is Sudan, which is currently a destination for thousands of refugees from the Tigray region. Sudan could use its possible involvement on the side of TPLF, to negotiate with Ethiopian government about Fashqa triangle. This agricultural land is subject of quarrel between two countries for over a century, and Sudan might have a chance to finally settle the dispute. However, Sudan could also help Ahmed to completely defeat Tigray troops since Sudanese regions of Gadaref and Kasalla are important for supplying TPLF not only with fuel and ammunition but also with basic needs such as food (Manek, Kheir Omer, 2020). Although Sudan officially closed its borders with Ethiopia, in reality, many refugees still flow to the camps on the Sudanese side of the border.
However, Sudanese economic, as well as political situation, probably will not allow it to interfere in the conflict. The same could be said about another Ethiopian neighbour Somalia, who also has historic grievances against Ethiopia, but is too involved in its domestic problems to join the civil war of different state (Matshanda, 2020). Federal military seems to have the situation under control, and even though there are indications about Eritrean army's involvement in the civil war, it is not very likely that other countries of Horn of Africa would join the conflict. That is actually good since the history of mutual conflicts in the region is very chequered.
What is Next for Ethiopia
Whatever the outcome of this domestic conflict will be, the humanitarian crisis and the impact of war on civilians is already huge and requires the involvement of international humanitarian organizations. Tens of thousands of refugees and hundreds of killed civilians is horrible balance, yet not very uncommon for African domestic ethnic conflicts. Right now, it seems that federal military under prime minister's Abiy Ahmed's control will be able to gain control over rebelling northern region of Tigray (Renon, Anderson, 2020). It would be, however, bold to assume that TPLF will give up easily, and while big cities are under governmental control, it might still try to win over smaller towns and attack military targets, leading sort of a guerrilla war. It is also obvious that TPLF is encouraging other federal regions to revolt against the federal government and their attempts to unite the country and reduce the influence of regional governments (Renon, Anderson, 2020). One of the triggers for the whole conflict was postponement of nation-wide elections that were set to happen in August 2020. New date of elections was set on June 5th 2021 and will determine the future of Ethiopia, as it might strengthen the position of Ahmed's Prosperity Party and allow him to further implement reforms (DW, 2020). Next couple of months leading to the election and its aftermath will determine whether Ethiopian civil war will become another frozen conflict.
Author: Zuzana Gajdošová
Sources:
Photo Source: Deutsche Welle (https://m.dw.com/image/55580580_7.png).
Middleton, J. (2020). Tigray conflict: What is happening in Ethiopia. The Independent. 26. 10. 2020 (https://www.independent.co.uk/news/world/africa/ethiopia-war-tigray-b1762333.html).
Bope, E.B. (2020). Did Ethiopia's attack on Tigray violate international laws? The African Report. 15. 12. 2020 (https://www.theafricareport.com/55135/did-ethiopias-attack-on-tigray-violate-international-laws/).
Matshanda, N. (2020). What next for Ethiopia and its neighbours: Somalia and Eritrea. The Conversation. 07. 12. 2020 (https://theconversation.com/what-next-for-ethiopia-and-its-neighbours-somalia-and-eritrea-151223).
Brooke-Holland, L. (2020). Ethiopia: Warnings of "full-scale humanitarian crisis" in Tigray region. UK Parliament: House of Commons library. 18. 11. 2020. (https://commonslibrary.parliament.uk/ethiopia-fears-of-civil-war-in-tigray-region/).
Manek, N. & Kheir Omer, M. (2020). Sudan Will Decide the Outcome of the Ethiopian Civil War. Foreign Policy. 14. 11. 2020 (https://foreignpolicy.com/2020/11/14/sudan-will-decide-outcome-ethiopian-civil-war-abiy-tigray/).
Fick, M. (2020). EU delays 90 million euros in aid to Ethiopia over Tigray crisis, document shows. Swiss info. 16. 12. 2020 (https://www.swissinfo.ch/eng/eu-delays-90-million-euros-in-aid-to-ethiopia-over-tigray-crisis–document-shows/46227338).
DW. (2020). Ethiopia to hold elections in June 2021. Deutsche Welle. 25. 12. 2020 (https://www.dw.com/en/ethiopia-to-hold-elections-in-june-2021/a-56059228).
Renon, E. & Anderson, J. (2020). Scenarios for civil war in Ethiopia's Tigray region. HIS Markit. 19. 11. 2020 (https://ihsmarkit.com/research-analysis/scenarios-for-civil-war-in-ethiopias-tigray-region.html).
Stewart, P. & Lewis, D. (2020). Exclusive: U.S. thinks Eritrea has joined Ethiopian war, diplomats say. The Chronicle Herald. 08. 12. 2020 (https://www.thechronicleherald.ca/news/world/exclusive-us-thinks-eritrea-has-joined-ethiopian-war-diplomats-say-528707/).