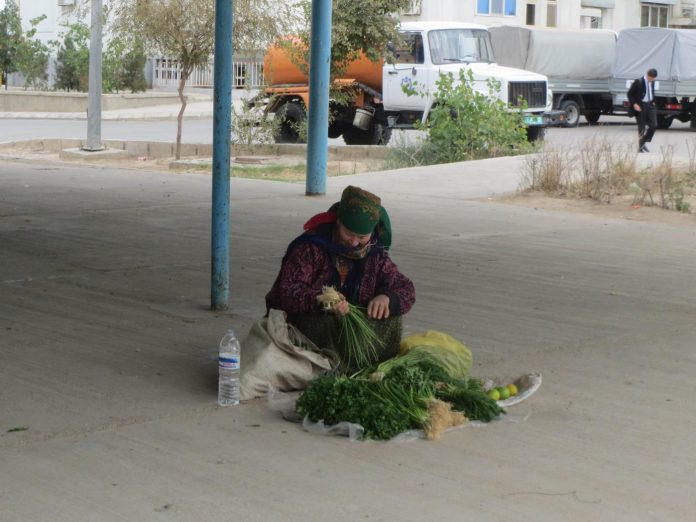 The government of Turkmenistan is generally denying the existence of any poverty in the country. It has failed to provide successful support to vulnerable groups. Unemployment is higher than the governments´ official statistics admit and current prices have skyrocketed from the beginning of the year (Human Rights Watch, 2020). According to official statistics, in 2018, unemployment was just below 4%. However, according to an independent observers´ analysis, actual unemployment was as high as 60% (Levina, 2018).
Economic observers estimate that the domestic production meets only around 40% of national demand, requiring the country to import the rest, of which about 80% is supplied by Iran. This leaves the country with a great vulnerability as it is 60% dependent on imports from foreign countries, mostly Iran. A complication of the situation came with the start of coronavirus pandemic in early 2020 as borders became shut and imports almost stopped. This led to worsening of the situation in the country (Daly, 2020).
Many of the Turkmens are dependent on work abroad, especially in Turkey, but because of the borders closing with the COVID-19 restriction, people were prevented from travelling abroad for work and lost their income. Prices in stores have skyrocketed. As of November 2020, there is a shortage especially of eggs, flour that you can seldom find in government shops (Human Rights Watch, 2020). Beggars have spread across Turkmenistan in recent years. The ever-increasing number of men women, children begging on street for money or food is an everyday sight outside stations, parks, markets. (Hatamov, 2019)
The Turkmen government is painting a picture of a successful country that is in the "era of greatness and happiness". They have closed market and dispersed people while filming on September 20th 2020, just so they could lead cameraman with television cameras to show to the public how market is abundant in vegetables, fruits and chicken. The video montage was later featured on a national TV showing an "ideal state" of food supplies on local markets (Chronicles of Turkmenistan, 2020).
"Turkmenistan's government has prioritized the country's image over people's well-being," said Rachel Denber, deputy Europe and Central Asia director at Human Rights Watch. "With no effort to identify and assist the people most in need at this critical moment, Turkmenistan is callously neglecting the most basic norms of human rights, which include the right to food," (Human Rights Watch 2020).
The country came up with a universal assistance program that provides government-subsidized food in government shops. Anyone who has a permanent residence in Turkmenistan can shop at the local stores, which are in some cases several times cheaper than the private ones. Prices became to disorientate in the late 2016 – beginning of 2017 when there came drastic cuts in the oil and gas sector which is the core of the country´s economy (Radio Azatlyk, 2020).
People in Turkmenistan can buy food in two kinds of stores – private and government shops. Private shops or bazaars used to have mostly stable food supply until the beginning of pandemic in 2020. Those who cannot afford to buy food at private places use government-subsidized stores to buy generally basic low-quality products like flour, bread, sunflower oil, sugar, eggs and frozen chicken at highly subsidized prices. One litre vegetable oil costs twice as much at private store as at the governmental one (Human Rights Watch, 2020). During the last 12 months, the price of flour rose by 50% and cooking oil by 130%. The border closures because of COVID-19 also resulted in potatoes imported from Iran, disappearing entirely (Najibullah, 2020).
Since June 2020, some provinces in Turkmenistan have imposed a rationing system for government shops. The current rationing system creates huge frontlines (which are often broken up by police in order not to be seen by independent media) in front of government shops and creates a ground for fraud by shop workers. Many of the Turkmens don't know what their norm for flour or sugar is. The sellers hide it from them and instead of stating how much a concrete person has bought, they put a plus sign on the paper stating that this concrete person has used his/hers quota. The shop workers in some provinces can also unexpectedly, without any notice, limit opening hours. Some Turkmens have even complained they have been forced to buy unwanted goods for elevated prices to be allowed to buy basic products they needed (Turkmen news, 2020).
Problems with waiting lines also came because of the food shortage as Human Rights Watch reports, a Turkmen student studying abroad said: "Most people are waiting [in lines] starting at 3 a.m.; the stores open at 7.… Most are living in poor conditions and so they have no alternatives," (Human Rights Watch, 2020).
If we were to talk about actual economic or living standards in Turkmenistan, we would not find any official relevant source with data. The government declines to release figures on neither the number of people living below a national subsistence level, if it exists nor the international standard of $1.90 per day. In 2018, the UN Economic and Social Commission for Asia and the Pacific estimated that 21.8% of Turkmenistan's population lives below the national poverty line (Human Rights Watch, 2020).
The Turkmen government is known for its repression, secrecy and strict control of its citizens. This includes state censorship that punishes criticism. Taking into consideration the state behaviour during the current famine situation, there are serious human rights violation problems in Turkmenistan. The plan, with which the country has come up so far as a solution to the famine problem is by far not enough for the scale of the problem that Turkmenistan is actually facing.
Author: Pavel Matusak
Sources:
Photo source: hrw.org, THIR. 2018. A woman sells herbs in Ashgabat. (https://www.hrw.org/modal/54894?fbclid=IwAR205OLiHlbj2jtk26_idlzmlmpcZDSmCe7p4Hl2DaWdSLHsgY0TJSqMNro).
Levina, M. (2018). Central Asia: Who benefits from labor migration? The Times of Central Asia. 16. 12. 2018 (https://www.timesca.com/index.php/news/26-opinion-head/20615-central-asia-who-benefits-from-labor-migration).
Human Rights Watch (2020). Turkmenistan: Denial, Inaction Worsen Food Crisis. Human Rights Watch. 23. 09. 2020 (https://reliefweb.int/report/turkmenistan/turkmenistan-denial-inaction-worsen-food-crisis).
Radio Azaltyk (2017). Turkmenistan is reducing the number of staff in the water and oil and gas sphere. Radio Azaltyk. 15. 11. 2017 (https://rus.azathabar.com/a/28855825.html).
Daly, J. C. K. (2020). Food Shortages in Turkmenistan Lead to Rationing in State Stores. The Jamestown Foundation. 19. 05. 2020 (https://jamestown.org/program/food-shortages-in-turkmenistan-lead-to-rationing-in-state-stores/#:~:text=Food%20security%20in%20Turkmenistan%20has%20been%20in%20decline%20for%20several%20years.&text=Economic%20observers%20estimate%20domestic%20production,is%20supplied%20by%20Iran%20).
Chronicles of Turkmenistan (2020). Ashgabat market is filled with groceries for shooting "the food abundance." Chronicles of Turkmenistan. 20. 09. 2020 (https://en.hronikatm.com/2019/09/ashgabat-market-is-filled-with-groceries-for-shooting-the-food-abundance/).
Turkmen News (2020). Turkmenistan: rationed system for dispensing food leads to trade fraud. Turkmen news. 06. 11. 2020 (https://turkmen.news/news/lack-of-groceries-turkmenistan/).
Hatamov. A. (2019). Turkmenistan: Poverty Drives Ever More People to Beg on Streets, Despite Official Claims of Improving Standard of Living. Turkmen News. 31. 03. 2019 (https://en.turkmen.news/news/poverty-drives-people-to-beg-on-streets-in-turkmenistan/).
Najibullah, F. (2020). 'Chaos In Stores': Turkmen Food Prices Skyrocket Amid 'Antivirus' Measures. Radio Free Europe. 25. 03. 2020 (https://www.rferl.org/a/turkmenistan-coronavirus-food-prices-skyrocket–special-measures/30508897.html).