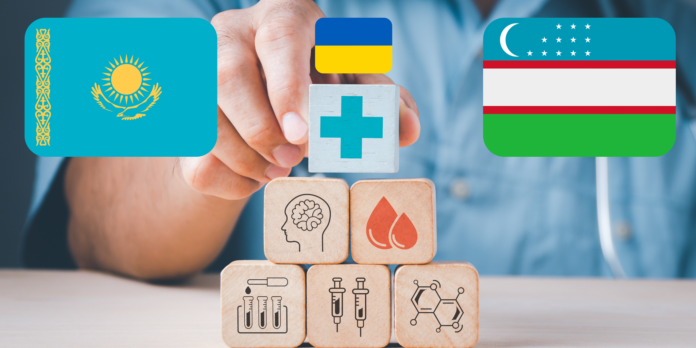 Region of Central Asia is considered the sphere of influence of Russia, therefore it is expected for states to be on the side of Moscow and support in some way its military actions. However, the Russian invasion of Ukraine proves the exact opposite in some cases, where countries provided Ukraine with humanitarian aid.
Who provided humanitarian aid?
Kazakhstan and Uzbekistan officially provided Ukraine with dozens of tons of humanitarian aid. Other countries from the region: Turkmenistan, Tajikistan and Kyrgyzstan did not provide any official aid to either of the sides.
Kazakhstan reportedly sent to Ukraine two batches of humanitarian aid, both organized by the Ministry for Emergency Situations of the Republic of Kazakhstan. The first batch was dispatched on 14th and 15th March from Almaty to Katowice in Poland. The total amount of the first batch was around 28 tons of 17 types of medicines, such as antibiotics, anti-inflammatory, antitussive and antihypertensive drugs. The second batch was dispatched on March 28, again to Katowice. This time the amount of medicines and other material was smaller, but for Ukraine still vital.
Uzbekistan reportedly sent 34 tons of humanitarian aid to Ukraine. This dispatch was confirmed by the local head of Zakarpatska Oblast Viktor Mikita and Uzbek media. Aid arrived to the hub outside of Ukraine on April 8, most likely some Polish airport, and then was transferred to the country. Aid consisted of medicines, individual medical boxes, long-term food products and a total of more than 400,000 items in 21 variations. Exact details were not presented to the public.
There was also some small amount of humanitarian aid collected by local NGO's in Kyrgyzstan. However, it was done without political participation and help. Only small details are available, and delivered aid is unclear. There are not any similar reports from Tajikistan or Turkmenistan.
No political and military aid to Moscow in favor of Kyiv
At the early March vote in the UN to condemn the Russian invasion, Kazakhstan, Kyrgyzstan and Tajikistan abstained, while Turkmenistan and Uzbekistan did not vote at all for this resolution. Considering their situation, it was a clear signal to Moscow that they do not support military aggression towards Ukraine. However, they did vote against expulsion of Russia from the UN Human Rights Council. All the countries except Turkmenistan, which did not vote, voted against it.
Another key thing to mention is that the Uzbek and Kazakh leadership openly expressed support for the territorial integrity of Ukraine, and refused to recognize artificial republics in Donbas. There were even some meetings with open support of Ukraine. One such a meeting occurred in Almaty on March 6. Authorities did not act against it, only when the protesters tried to storm the Russian embassy at a meeting in April. Other countries did not comment openly on this situation, trying to balance on a neutral position.
To sum it up, countries from a region of Central Asia are staying mostly on the neutral side of this conflict, providing only humanitarian aid in smaller numbers. Then again, not cooperating with Moscow on this invasion is far bigger help for Kyiv as they would wish for. There are also not any indicators that the CSTO will be involved in this war, having said that, wars are unpredictable, and things can change very quickly not just for Ukraine and Russia, but also for Central Asia.
Richard Straka